MacBook Pro Touch Bar's T1 Chip Runs 'Variant' of watchOS, Also Secures Touch ID and FaceTime Camera [Updated] – mytutorials.xyz
MacBook Pro Touch Bar's T1 Chip Runs 'Variant' of watchOS, Also Secures Touch ID and FaceTime Camera [Updated]
In a series of tweets sent out last night, and now in an interview with The Verge, developer Steven Troughton-Smith has detailed the inner workings of the MacBook Pro's new retina Touch Bar, describing its T1 chip as "a variant of the system-on-a-chip used in the Apple Watch." This means that the Touch Bar is essentially running watchOS on the T1 chip, which macOS then communicates with through an interconnected USB bridge that "relays multitouch events back to macOS."
The developer described this software setup as advantageous for the MacBook Pro's security, since the T1 chip also acts as a layer of protection and "gates access" to the laptop's FaceTime camera and Touch ID sensor. In the series of Tweets he sent out last night, Troughton-Smith also theorized that watchOS could power the Touch Bar alone without relying on macOS to be running on the MacBook Pro, which Apple software engineering chief Craig Federighi has now confirmed.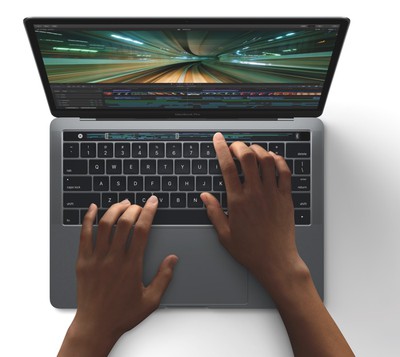 "From everything I can piece together, the T1 chip in the new MacBook Pro is a variant of the system-on-a-chip used in the Apple Watch," explains Troughton-Smith, in an interview with The Verge. "Running watchOS on the T1 lets the Mac benefit from Apple's deep work on iOS embedded security, as the T1 gates access to the Touch ID sensor and, from the looks of it, the front-facing camera in the new MacBook Pro too."
Despite the use of watchOS in the Touch Bar, the T1 chip "has no fixed storage" and boots from a 25MB ramdisk, so it's not the full version found on the Apple Watch that could run the complete watchOS UI with apps. As Troughton-Smith described it, "the 'watchOS' the T1 runs is presumably only 'watchOS' by dint of the CPU it's designed for. T1 must be very similar to S1."
The developer also confirmed that the T1 chip and Touch ID sensor are paired together at the factory, so if either begins acting up, "you can't replace one without the other." What this means for the future of the MacBook Pro line could be a device that more closely bridges the gap between macOS and iOS, according to Troughton-Smith.
"Perhaps someday it could run a higher class processor, like Apple's A-series chips, and allow macOS to 'run' iOS apps and Extensions, like iMessage apps, or manage notifications, system tasks, networking, during sleep, without having to power up the x86 CPU."
Yesterday, Phil Schiller commented on the idea of Apple manufacturing a MacBook with a touchscreen, but he remained adamant that such a direct merger between macOS and iOS software wouldn't be "particularly useful." Likewise, Apple's newly published guidelines for developers describe the Touch Bar as "an input device," and "not a secondary display."
Update: TechCrunch's Matthew Panzarino has shared a few more details on the T1 chip in the MacBook Pro. The T1 is the same chip that's inside the S2 in the new Series 2 Apple Watch, and is made up of the processor and the Secure Enclave.
The T1 secures the Touch ID sensor, camera, Touch Bar, and the keychain where passwords are stored. As was previously suggested, the T1 runs a modified version of watchOS.