Privacy-Enabled Web Browser 'Firefox Focus' Launches on App Store With Automatic Ad Blocking – mytutorials.xyz
Mozilla today launched a new app called "Firefox Focus," which automatically blocks advertisements as well as online trackers. The company said that due to the new app's removal of heavy ads and tracking software by other companies, "web pages may require less data and load faster."
The privacy-focused web browser also comes with an easily accessible "Erase" button at the top of the app, which users can tap and erase all browsing history, searches, cookies, and passwords instantly.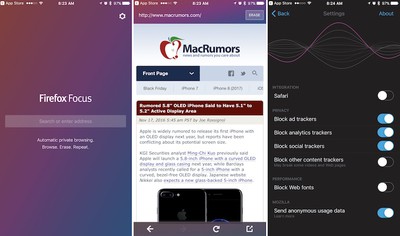 Firefox Focus also offers extensive customizable browsing options, with the ability to disable a website's custom font, and users can choose to load a page in another browser — Firefox or Safari — if they're willing to leave the security of Firefox Focus.
Browse like no one's watching. The new Firefox Focus automatically blocks a wide range of online trackers — from the moment you launch it to the second you leave it. Easily erase your history, passwords and cookies, so you won't get followed by things like unwanted ads.

"Private browsing" on most browsers isn't comprehensive or easy to use. Focus is next-level privacy that's free, always on and always on your side — because it's backed by Mozilla, the non-profit that fights for your rights on the Web.
The app is otherwise simplified, with a single search bar greeting users when they open it, and only one tab available to view at a time. The settings of the app also include an additional layer of security to block other content trackers, but Mozilla warns that toggling it on "may break some videos and web pages."
Firefox Focus is available to download from the App Store for free. [Direct Link]