Apple Maps Now Provides Traffic Conditions in Bulgaria, Slovakia, and Slovenia – mytutorials.xyz
Apple Maps has recently been updated with all-new traffic data in Bulgaria, Slovakia, and Slovenia, providing users with real-time updates about vehicular traffic in three more European countries. As usual, highly congested areas will display orange or red lines along the roads to indicate that drivers may face delays. The traffic feature is also now available in Gibraltar, a small British territory on Spain's south coast.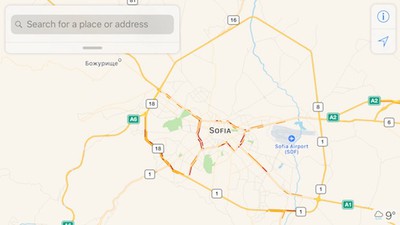 Apple Maps traffic data is available in over 40 other countries, including the United States, United Kingdom, Canada, China, Singapore, Australia, New Zealand, Mexico, South Africa, Spain, Belgium, Germany, Greece, France, Italy, the Netherlands, Czech Republic, Denmark, Poland, Switzerland, Liechtenstein, Malta, Monaco, San Marino, Bulgaria, Slovakia, Slovenia, Gibraltar, and select other regions in Europe.